Electrical Installation Condition Reports Explained

Wiring is usually concealed within our walls and floors, electrical connections in sockets, switches and consumer units throughout electrical installations require periodically inspecting and testing as to prevent danger arising from damage, wear and tear.
Landlords, homeowners and managers are resposible for protecting people, animals and property. Managers and landlords have a legal duty to ensure electrical systems are inspected and tested.
Faulty and deteriorating wiring is one of the main causes for electrical fires and electric shock. The British Standards for electrical instsllations (BS7671:2018) requires that electrical installations are periodically inspected and tested by the means of undertaking an ELECTRICAL INSTALLTION CONDITION REPORT, abbreviated to EICR or EIC report. This was formerly known as PIR, periodic inspection report.
The main aims of an electrical installation condition report are:
1) Record the results of the inspection and testing to make sure the electrical installation is safe to be used until the next inspection (following any work needed to make it safe)
2) Find any damage and wear and tear that might affect safety, and report it
3) Find any parts of the electrical installation that do not meet the IET Wiring Regulations
4) Help find anything that may cause electric shocks and high temperatures
5) Provide an important record of the installation at the time of the inspection, and for inspection testing in the future.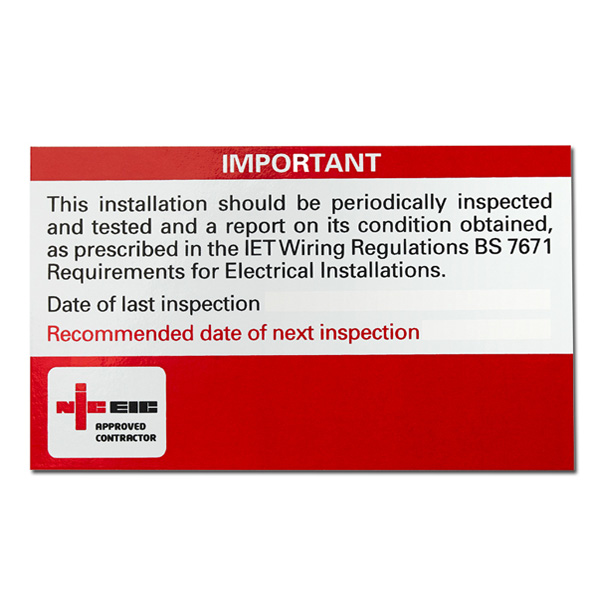 The Law and Frequency of Inspections

The Electricity at Work Regulations (1989) and The Electrical Safety Standards in the Private Rented Sector (England) Regulations 2020 are both statutory laws. In order to ensure compliance, every installation requires inspecting and testing in accordance with the British Standards BS 7671:2018 Requirements for Electrical Installations. The frequency and type of inspection are shown in the table below:
| Type of Installation | User Checks | Maximum Time Between EIC Reports |
| --- | --- | --- |
| Homeowner | 1 year | 10 Years/Change of Occupancy |
| Domestic Rental | 1 year | 5 Years/Change of Occupancy |
| Commercial | 1 year | 5 Years/Change of Occupancy |
User Checklist

In order to ensure the electrical safety of your property and tenants, it is important that you make basic visual checks at least once a year and on change of tenancy. Visual electrical inspections are required as a supplementary measure, carried out in between full Electrical Installation Condition Reports (EICR). An EICR must be carried out by a competent, registered electrician with experience of carrying out inspecting and testing.
Checks to be undertaken
1

There are no visual signs of burning, overheating or damage and no burning smell at the electrical intake position (usually where the consumer unit and electricity meter are located).
2
The electrical intake position and consumer unit are easily accessible and free from storage materials.
3
There are no blanks missing from the consumer unit.
4
The consumer unit is correctly labelled for identification of circuits.
5
There are no noticeable signs of electrical burning near the consumer unit/ electricity meter (by smell or visual evidence).
6
Operated the RCD/RCBO test button(s) during the course of this inspection and confirm they
are operating properly.
7
All fittings [light fittings/sockets /switches/outlets/showers/storage heaters etc.] on the premises are tightly secured in their back box, with all screws present.
8
All sockets on the premises are working (i.e. power a simple appliance such as a lamp).

9
No light fittings/sockets/switches/outlets/showers/storage heaters etc.. on the premises show signs of burning or damage.
10
There are no signs of modification/alteration to the electrical installation from the previous tenant.

11
All portable electrical appliances supplied by the landlord have been visually inspected and tested in line with the risk assessment carried out by the tester.
12
Tenant made aware of the danger posed by overloading sockets and understands that it is their responsibility to use appliances safely.
Consult a qualified electrician if you have any doubts.